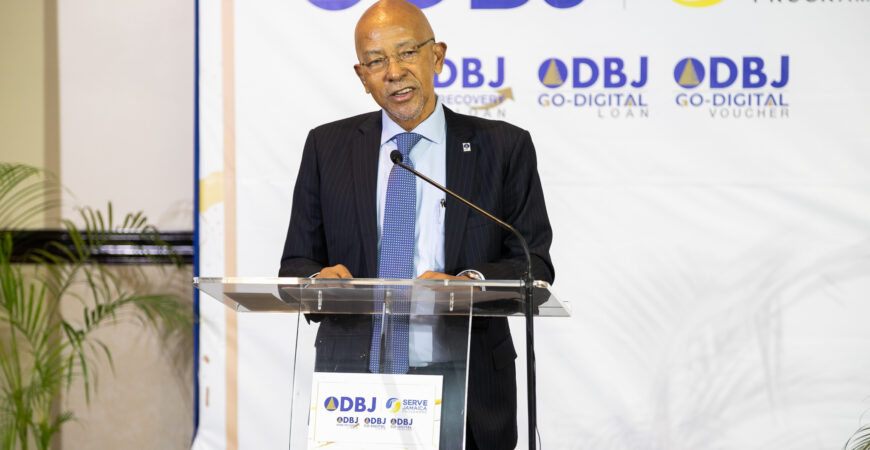 KINGSTON, JAMAICA: The Development Bank of Jamaica (DBJ) is making $3 billion in low-cost loans and grants under the SERVE programme available to micro, small and medium-sized enterprises (MSMEs) which have been badly affected by the COVID-19 pandemic. This will not only assist business to digitalize, retool and refinance, but, also, in the process, help the Jamaican economy to recover from the effects of the pandemic.
The latest initiative, in partnership with the Ministry of Finance and the Public Service, was launched on Wednesday, September 15, 2021, at a virtual ceremony held at the Jamaica Pegasus hotel.
"Here is an opportunity to take your business, digitalize it and make it more accessible to customers in a way that does not require physical interaction," said Minister of Finance and the Public Service Dr. The Hon. Nigel Clarke. "I am challenging the MSME sector to approach their financial institutions and request these products from the DBJ."
The DBJ SERVE programme provides two loans and a grant to businesses:- The DBJ MSME Recovery Loan, the DBJ Go-Digital Loan and the DBJ Go-Digital Voucher.
The DBJ MSME Recovery Loan, which is for working capital, capital expenditure, debt consolidation, the refinancing of business loans, overdrafts, credit cards and the purchase of real estate for use by the business, provides up to $10 million with a 5% interest rate and eight years to repay.
The DBJ Go-Digital Loan, which is geared towards digital transformation services, e-commerce, digital payment solutions, cyber security, digital productivity tools and business applications (hardware and software), offers up to
$800,000 at a 2% interest rate, with three years to repay.
On the other hand, the DBJ Go-Digital Voucher is a grant that is part of DBJ's Voucher for Technical Assistance (VTA) and supports a variety of technological solutions aimed at transforming businesses such as the purchase of software. This grant is valued up to $300,000.
Clarke said Jamaica is currently performing better than countries in its peer group and this new product will aid in the recovery of the local economy.
"The impact [of COVID-19] on local businesses has been particularly hard because of how we do business," said DBJ Managing Director Milverton Reynolds. "We are largely rooted in the traditional way of conducting our affairs – that is to say, in person, paper-based, mortar and brick operations and so on. Therefore, if there is one over-riding thing that the pandemic has taught us, it is that businesses have to change if they are to survive."
He encouraged business operators to take advantage of the opportunity being offered, particularly as it will only be available until March 2022.
DBJ SERVE products are currently available through financiers such as Wilco Finance Ltd, First Heritage Cooperative Credit Union, Bull Investments Ltd, Lasco Financials Ltd, National Commercial Bank, JMMB Bank, Sagicor Bank Jamaica Ltd and First Global Bank.
Reynolds called on all financial institutions to participate in the programme since their customers, and the wider MSME sector, will benefit from the investment, re-tooling and working capital. Local businesses and entrepreneurs may access any of the facilities under the DBJ SERVE programme or all of them. More information may be sought from DBJ or any of the participating institutions.
Reynolds also announced a new agreement between DBJ and the Jamaica Technology and Digital Alliance (JTDA), formerly the Jamaica Computer Society, in which a website will be created to list all the local suppliers of digital technology goods and services.
Powerful industry leaders and heads of umbrella organisations endorsed the DBJ SERVE Programme at the event. They included Jamaica Bankers Association President Septimus Blake, Private Sector Organisation of Jamaica Vice- President Jackie Sharp, MSME Alliance President Donovan Wignal and JTDA President Stacey Hines who all emphasised the benefit of and need for the SERVE programme in the MSME sector. They all commended the DBJ and encouraged businesspersons to apply through their financial institutions.
The DBJ is a wholly owned Government institution that provides development financing, capacity building, public private partnership and privatisation solutions in keeping with Government policy.
END.